YOU ASKED. WE LISTENED!
Our 4 for $44 SEAFOOD FEAST IS BACK! And with a spicy new addition.

And after all, who doesn't love an incredible deal!?
Celebrate SUMMER☀️ with your perfect seafood boil crafted by you, for you. Start with a cluster of Snow Crab Legs, then add in your choice of THREE seafood additions, and voila! ✨
Choice of THREE
1/2 lb. Shrimp (Head-On)
1/2 lb. Shrimp (Head-Off)
1/2 lb. Black Mussels
1/2 lb. Clams
1/2 lb. Crawfish
Served with Corn & Potatoes
And if you're feeling thirsty, add an ice-cold pint for only $4 more 🍺
Available 7/1/22 through 7/31/2022.
4️⃣ 4 FOR $44 is available at these locations.
---
THEY'RE BACK!!!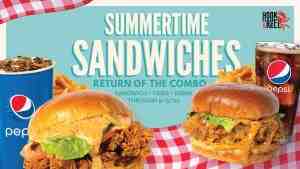 We've brought back our Cajun Chicken Sandwich and the REEL Fish Sandwich for Summer 2022! This time, they come with fries AND a Pepsi drink. So grab your friends, grab some lunch, and get your summer started.
🥪 Summertime Sandwiches are available at these locations.